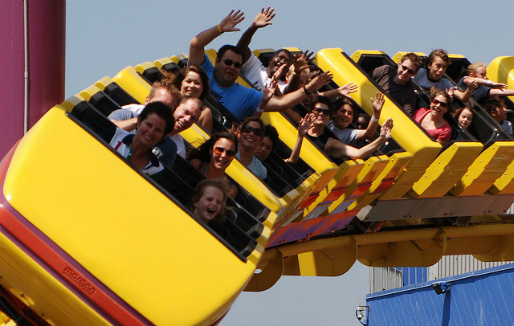 Heading for a good time at your local amusement or theme park this summer? Take the following short quiz to check your knowledge on ADA accessibility compliance guidelines for amusement rides:
1.  Under ADA guidelines a newly constructed or designed amusement ride must provide how many wheelchair or specially designed seats or transfer devices for person with disabilities?
a. At least two per ride
b. At least one per ride
c. It depends on the capacity of the ride
d. At least one for every 20 riders
[Answer 1: b. It is up to the operator or designer to decide on the type of access or accommodation for the ride. The ADA also encourages operators to exceed the minimum number of accessible ride seats to accommodate the maximum number of people with disabilities along with their accompanying family members.]
2. Accessible routes are defined as "continuous, unobstructed paths connecting all accessible elements and spaces of a building or facility." As applied to an accessible amusement ride, an accessible route must:
a. connect to a wheelchair space on the ride
b. connect to a ride seat designed for transfer of a person with disability
c. connect the load and unload areas of rides not required to comply with ADA guidelines
d. all of the above
[Answer 2: d- Answer c would apply to a ride controlled by the operator (such as bumper cars).]
3.  When a ride provides space for wheelchairs, what is the minimum turning space at the point where the accessible route adjoins the ride?
a. 60 inches
b. 72 inches
c.  80 inches
d. It depends on the dimensions of the access space
[Answer 3: a- This 60-inch diameter or T-shaped space must be available for accessibility. The turning space could overlap the accessible route.]
4. Companion (or double) wheelchair seating must be provided on an amusement park ride if the inside of the ride is:
a. more than 48 inches wide
b. more than 53 inches wide and the chair does not have to be positioned to maintain the center of gravity
c. there is seating for more than one rider and the chair does not have to be positioned to maintain the center of gravity
d. both b and c
[Answer 4: d- Also, if the ride has a shoulder-to-shoulder seating design, wheelchair companion seating must likewise be shoulder-to-shoulder, except on water rides where the center of gravity is important to rider stability.]
5. Which types of amusement rides are not subject to ADA accessibility guidelines?
a. mobile or portable rides of traveling carnivals or fairs
b. rides controlled or operated by the rider (such as bumper cars)
c. rides designed for children where adults assist the riders
d. all of the above
[Answer 5: d- Additionally, rides that do not have seats must only have an accessible route for loading and unloading as well as an adequate turning space.]
If you are encountering barriers to full access of public or private facilities, contact us immediately. We are recognized by the United States Department of Justice (DOJ) as one of the premier companies in the United States dealing with Federal Compliance issues.
Photo courtesy Flickr user BenSpark
Comments
comments