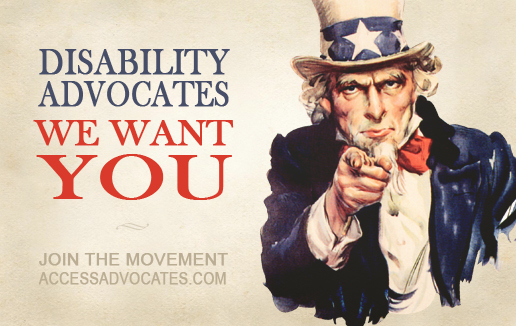 Access Advocates, with its 19 years of experience with the Americans with Disabilities Act (ADA) is seeking to change the way building owners think and operate. But, we can't do it without our partner advocates.
What or, more specifically, who is an advocate?
ad·vo·cate – noun \ˈad-və-kət, -ˌkāt\ – a person who speaks or writes in support or defense of a person, cause, etc.
Simply put, an advocate is one who seeks to bring about change. In our case, an advocate is a person with a disability who seeks to improve building accessibility and is ready and willing to partner with us to achieve the end goal of getting buildings ADA compliant.
Due to the way the ADA is structured in Federal Civil Rights Law, the authority for enforcement lies with the advocate with the disability. Access Advocates can only step in and assist once we have written approval from the advocate. We view this as a team effort between the advocate and our team. The best part? We do all the work, at no cost to you!
Our goal is develop a wide network of advocates, or "watchdogs in wheelchairs" if you will, who are passionate about ADA building compliance. Will you lend your voice to the cause?
Click here to JOIN THE MOVEMENT!
Comments
comments